OBOE
OBOE d´AMORE
ENGLISH HORN
Professional Oboe Player Sophie Stahl -
in and around Essen, NRW & Berlin.
As a self-employed musician I am mainly active in Essen, NRW and Berlin.
On a regular basis, I help out as an assistant oboe player at different chamber music projects and orchestras like the Neubrandenburg Philharmonie or the Theater Vorpommern, among others.
Besides working as a music artist, I also give oboe lessons, lead selectional rehearsals for wind players at several orchestras, and am engaged and working in the musician's health realm.
I discovered my passion for music at an early age. After several years of recorder and piano lessons, I began taking oboe lessons when I was 12 years old. It was only a few years later (in 2005) that I passed an audition at the Academy of Music and Dance Cologne, Department Wuppertal (HfM Köln, Standort Wuppertal) and was hence granted a scholarship as a "Jungstudentin" (junior student) with lessons taught by Rodrigo Blumenstock and later (from 2007 on) by Prof. Marc Schaeferdiek. 
I was lucky to receive such an intense and comprehensive music training before I had even graduated from high school.
Music school had me move to the Netherlands in 2009, where I intensified the lessons with Prof. Marc Schaeferdiek at the Conservatorium Maastricht. In 2012 I switched to the Berlin University of the Arts(UdK Berlin) where I was henceforth taught by Prof. Washington Barella and later graduated with a Bachelor's (summer 2014) and a Master's Degree (summer 2016) in Orchestral Musician with oboe as the main instrument (Master in Orchestermusik mit dem Hauptfach Oboe) with great success.
During my studies at the UdK Berlin I was a scholarship holder of the "ad infinitum foundation".
With lessons and master classes from Peter Veale, Bert Lucarelli, Vicente Llimera, Prof. Christian Wetzel, Prof. Ingo Goritzki, Yeon-Hee Kwak, and Prof. Christoph Huntgeburth I was able to broaden my musical horizons.
My participation in miscellaneous projects and my regular involvement with different orchestras not only led me on a great number of trips through Germany and abroad. They also gave me the opportunity to acquire more experience as a soloist, as part of orchestras or playing in ensembles. Truly memorable experiences were the International Summer Music Academies "Collegium Musicum" in Pommersfelden and at the Hundisburg Castle. Other experiences include a range of assistant jobs at orchestras like for example the orchestra of the Theater Vorpommern, Theater Magdeburg, and the Neubrandenburg Philharmonie as well as cooperations with e. g. the Bochumer Symphoniker orchestra.
My greatest passion are chamber music ensembles and small chamber orchestras because of their intimate setting which make them especially exciting and charming for me to play in. So this is obviously where I am very engaged in and where you will often see me. As a scholarship holder of the Dutch "jong voor oud" foundation and the German "YEHUDI MENUHIN Live Music Now, Berlin e.V." association, I participated in various ensembles such as a woodwind player quintet; a trio with oboe, french horn and piano; and with guitar and oboe. What really inspires me in this setting is the direct contact with the audience.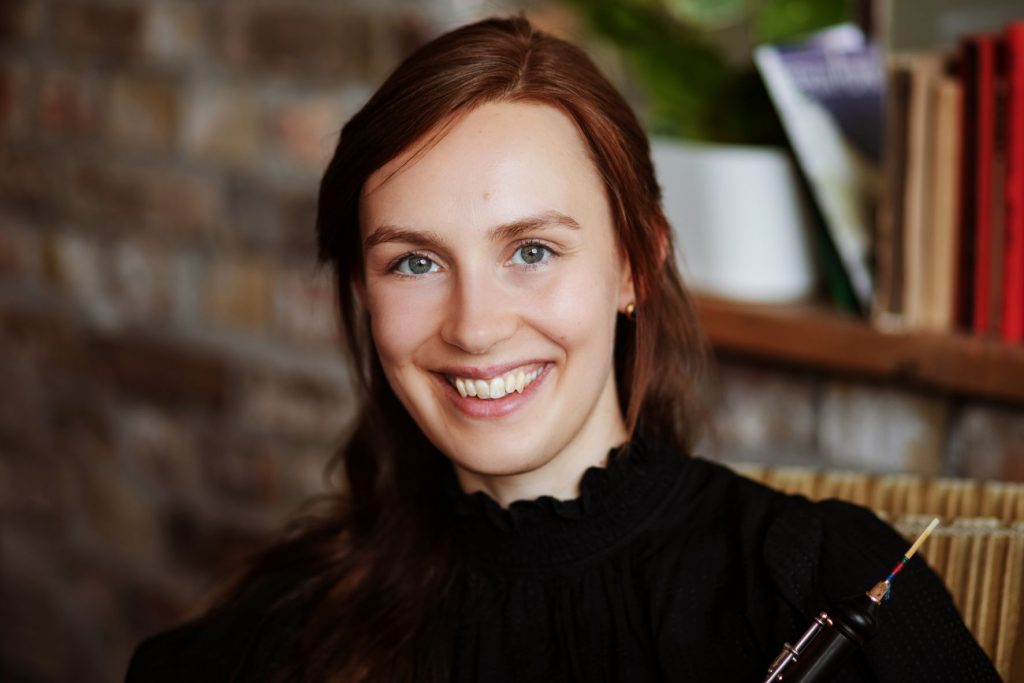 Are you looking for a professional oboe player for your next project or for your ensemble?
It would be a pleasure to assist you with oboe, oboe d´amore or English horn. Just send me a booking request and we'll discuss the details. I'm looking forward to hearing from you.